These Banana Applesauce Muffins are one of my favorites. It smells and tastes so good that no one will ever know it is gluten-free. Did you know that it will add even more moistness to the muffins if you use the ripest bananas? 

I tweaked this recipe to be a healthier one by using less butter and sugar. I also added a 1/3 cup of water to the batter by becoming too thick to stir after mixing all the dry ingredients. Plus, I added cinnamon and ground mace to spice things up and give it a bit more flavor.
So please try out this Banana Applesauce Muffin recipe for yourself. I would love to hear from you about your experience in making these muffins in the comment box below.
---
Ingredients:
1/4 cup of unsweetened applesauce
2 tablespoons of unsalted butter (Leave out at room temperature until it's soft or microwave it for 30 secs to 1 minute.)
1 or 2 teaspoons of ground cinnamon
1/4 teaspoon of ground mace (optional)
3/4 cup of pure cane sugar
2 eggs
1-1/2 cup of mashed bananas (4 small ripe bananas.)
1/3 cup of water
3/4 cup of brown rice flour
1/2 cup of millet flour
1/2 cup of almond Flour
1 teaspoon of baking soda
1 teaspoon of baking powder
1/2 teaspoon of salt
1/2 teaspoon of xanthan gum
1/2 cup of walnuts (optional)
Directions: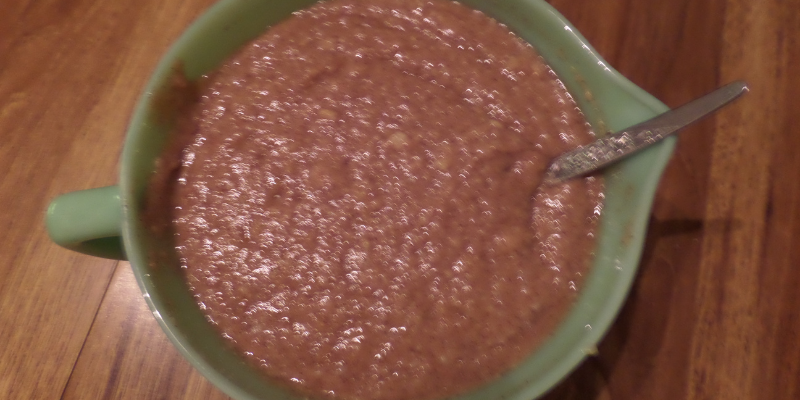 In a large mixing bowl, add 2 eggs.
Stir it until it's smooth using either a fork or an electric mixer.
Continue by adding in the melted butter, applesauce, mashed bananas, and water.
Stir together until it's thoroughly combined.
Now add the cinnamon, ground mace (optional), sugar, baking soda, baking powder, salt, and xantham gum. Stir together until it's thoroughly combined.
Add one at a time, the millet flour, the almond flour, and the brown rice flour.
Stir these flours into the batter one at a time until it's thoroughly combined.
If you want to add walnuts, use a mixing spoon to fold them

within the batter.
Baking Instructions:
Preheat the oven to 350ºF.
For Muffins –
Use non-stick cooking spray or use baking cups (size 2-1/2″) in preparing your metal muffin tins.
Spoon the batter into the prepared metal muffin tins and bake for 20 to 25 minutes.
Use a toothpick to check the center of your muffin. If it comes out clean, then it is done.
Place these muffins in a storage bag or a Tupperware container before putting them into the refrigerator.
These muffins will keep for 5 days.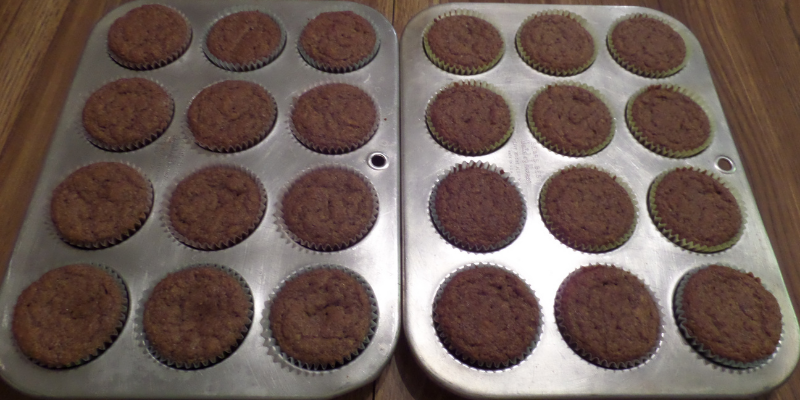 For bread –
Use either 2 metal loaf pans size 5″ x 10″ x 2″ deep or 1 ceramic loaf dish size 5-1/2″ x 9-3/4″ x 3″ deep.
Whichever one you use, line it with aluminum foil and then coat it evenly with cooking spray.
Spoon your batter into your prepared loaf pan or ceramic dish. Bake for approximately 50 to 55 minutes until the center of the bread springs back to the touch.
You can also use a toothpick to check the center of your bread.
Check your bread after 35 minutes to see if the top is browning too fast. If it is, cover it loosely with a piece of aluminum foil.
Once it is done, let it cool either on top of the stove or on a wire rack. Then lift the bread out of the pan and let it cool completely on the wire rack before slicing.
Wrap your bread up loosely with aluminum foil and place it into the refrigerator. It will keep for 5 days.
---